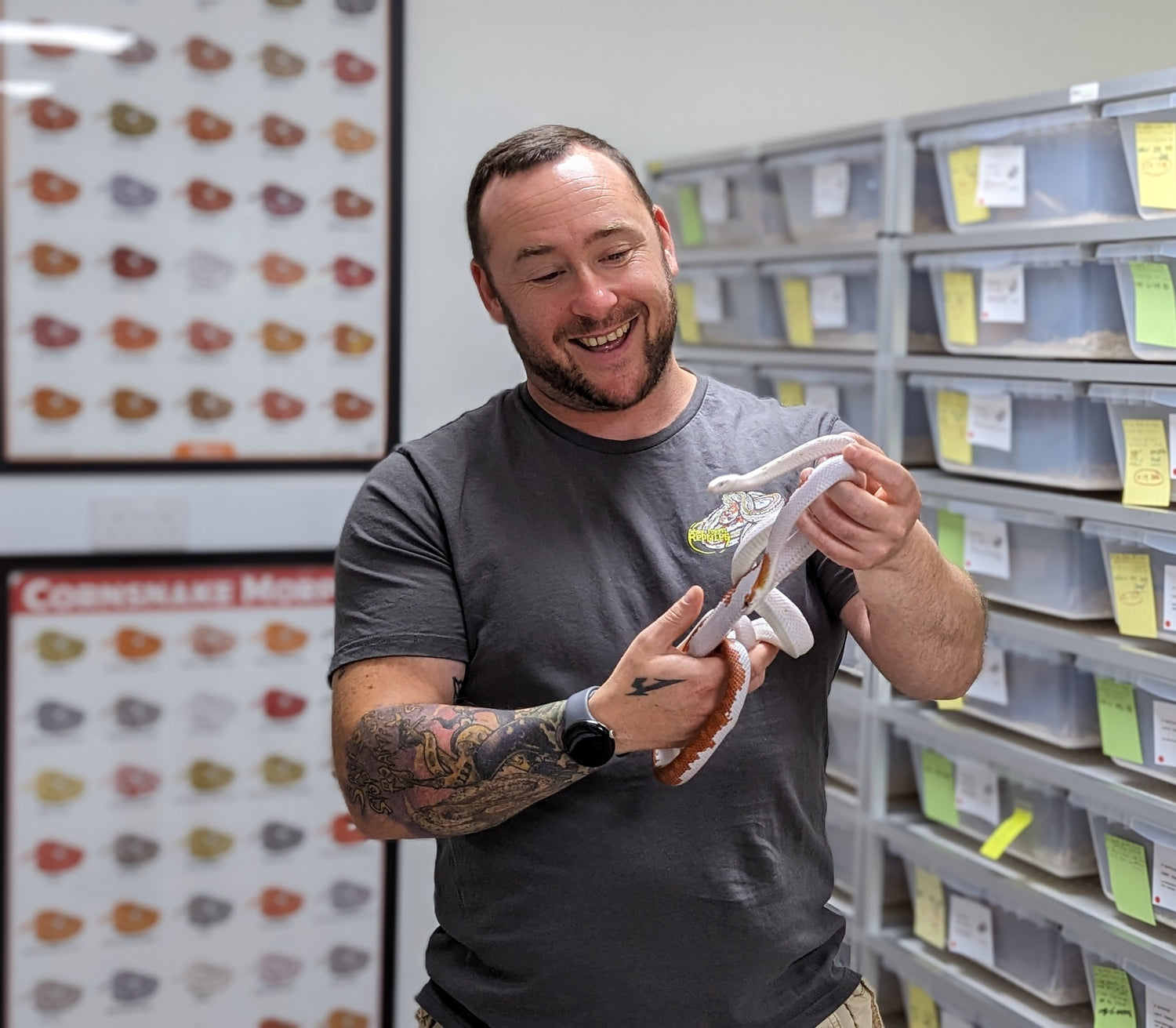 A little bit about WFR
Hello there! Thank you for looking at my site and allowing me to share my passion with you!
My name's Ian and I'm the owner and chief snake wrangler here at WFR.
I've been predominantly breeding corn snakes since 2011, adding new species along the way and have loved every second!
I have been fortunate enough to turn my hobby into a licensed business based in Kidderminster, UK
I have one of the biggest reptile collections in the UK, some bred by myself and some from top breeders and quality bloodlines from across the world!
A Passion For Quality
The quality of my stock is paramount. I work tirelessly to maintain the highest standard of quality in all of my animals.
Every hatchling snake that is for sale has been bred by WFR.
Always Here To Help
I'm always more than happy to help guide you through any issues or answer any questions you may have, whether you are buying your very first snake or been a customer of mine for a long time!
I want to make the purchasing process as easy as possible, so drop me a message and lets get that dream reptile into your hands!
Collapsible content
UK & Worldwide Shipping

UK Shipping:

£55 - £75 depending on location. We ship every 2 to 4 weeks using DEFRA approved, licensed couriers.

USA & Worldwide Shipping: Please enquire for pricing and time frames.

Collection from the WFR HQ is more than welcome too!
Deposit and Payments

- We require a deposit of 25% of order value or £60 (whichever is greater) to take any animal off sale.

- Any deposits are non-refundable unless we are unable to provide the goods / livestock ordered.

- Full balance must be paid as follows:

Order value between £51 and £100 - within 1 month

Order value between £101 and £200 - within 2 months

Order value over £201 - within 3 months

Remaining balance must be paid in at least equal amounts over the remaining term:

e.g. - £200 order is £50 deposit, and then minimum £75 month 1 and £75 month 2.

After this time we will release the animal/s for sale and deposits will not be refunded. Any balance over the deposit value will be given as a credit note.

By placing an order you agree to the following:

Age:

- You must be over 18 to purchase livestock from us.

Ownership:

- The goods / livestock remain property of Wyre Forest Reptiles until 100% payment is received.
Health Guarantee

We guarantee that any animal leaving us is in perfect health. Please notify us on the day of delivery if something is wrong. Livestock is guaranteed for 76 hours upon arrival.